Dear
I woke up in the middle of the night last Tuesday and at first, I didn't understand why I felt so overwhelmed, then I remembered and cold shivers ran down my spine…

Here's what happened,

When I was a child, I grew up somewhere in sub-urban Lagos and we had this neighbour who had three children. Although this is about the first child, let's call him Bryan.

You see, Bryan's parents were devout Christians that attended a certain church that has a huge following. They were basically in church 4 days a week, they almost prayed down the house every day during their morning or evening family prayers.

Bryan and his siblings didn't have a social life as kids, they couldn't even befriend their peers. They would watch other kids play from their bedroom window with a look of forlorn hope in their eyes.

Bryan didn't do well at school, his parents would flog him mercilessly at the end of the term when the reports came in. They tried to pray the books into his head.

Bryan ended up harbouring a great amount of disdain for his parents. He loathed them with passion. Sadly, we moved out to our own house a few years later and we lost contact.

But the most riveting thing happened…

I met Bryan 18 years later and he was so excited to see me. He told me how he ended up dropping out of the university because he simply couldn't take it anymore. He absolutely hated the course his parents had chosen for him.

He didn't go home for almost 3 years after dropping out. He was obsessed with technology and that was all he could envision himself doing. He wished his parents had listened to him and supported him.

Here's what Bryan did:

He did assignments and typed out projects for his peers.
He saved the proceeds.
He got himself a laptop.
Paid for mentorship and tuition fees into a tech school.

According to him, in less than 2 years, he became a guru. Everything came naturally to him. His mentors were always there to guide him through hiccups.

Today, Bryan works with Google. Earns over $250,000 annually, travels the world when he's on leave and has 3 successful businesses running smoothly in Nigeria.
This is just one out of thousands of people who have reaffirmed the notion that "high-income skills" will give you access to a rewarding life.

Most parents want the best for their children, that's why they make certain choices for them.

Let's face it, most of the courses being taught today are obsolete in our clime as well as saner climes…

Spending so much on a degree where jobs in that field are almost non-existent in reality can be heart-wrenching…

This is why we at EDUPOINT would like to invite you to our KIDS AND TEENS SUMMIT which will take place on Saturday, May 28nd, 2022.
The theme is "UNIQUELY MADE TO BECOME GREAT"
See details here: (attach flyer below)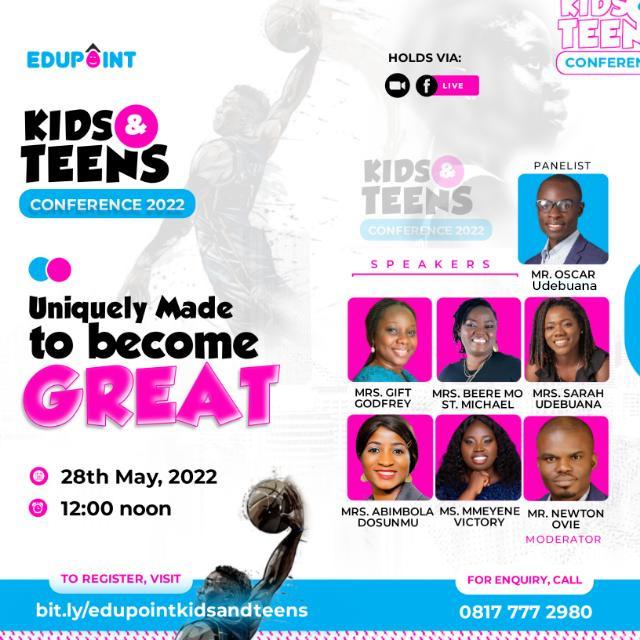 However, this summit isn't for everyone and there are limited seats available. We have less than 50 seats left!!!

Hurry and click here now to register!
Who knows, Bryan might just be there to tell you about his journey personally…

Please remember, you can do your best as a parent, but make sure it's in your child's best interest, not yours
Stay Pointed,